About SomniQ
---
Starting in the late '90s, I had been involved in the advent of smartphones. Through the 2000s, I led the engineering of mobile phones and smartphones all around the globe at Sony Ericsson.
My efforts to deliver over five hundred million units of products let me realize a ditch between humans and technology. A ditch that can't be filled only with new technological developments. I keenly realized a crucial point: humans need to work together with technology.
In 2012, I founded SomniQ, Inc. in the San Francisco Bay Area. Since then, I have been pursuing ways for humans and machines to work together in a natural flow and utilize the flow for "practice."
For nine years, I have fully dedicated myself to research and development to create Empatheme. The Empatheme method combines art and philosophy of practice with technological patented inventions. I also have been practicing the concept by myself every day.

Such a method, called the Empatheme Method, recently turned into "Mi pra (Micro Practice)" "Ei pra (Learn to Practice English), and "Co pra" (Sharing Practice).Currently, they are run by Empatheme Foundation, a non-profit charitable organization.
We provide a free Empatheme app, environment, and the method using Empatheme to help anyone create a habit: "to create a short time, reflect on themselves, and share with others."
Empatheme means the smallest unit of empathy. It's our vision.
Empatheme is a medium that reflects, records, in a standard format/unit, and expresses behaviors performed in a natural flow. It also recognizes moments between actions, such as breathing, which are identified as an endpoint of each flow.
You can use the app just for yourself or with others to reflect on your or others' practices; a practice to learn English, or any other practices, will become much more effective.
Anyone can experience Empatheme and share it with others in their everyday lives. Besides, Empatheme can be used for scientific research, producing empirical results that can be used in society.
Our mission is to create a social innovation of practicing where anyone can contribute to the Empatheme Community's growth.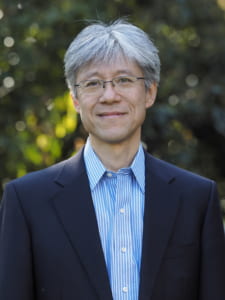 Rikko Sakaguchi
Founder and CEO, SomniQ, Inc.